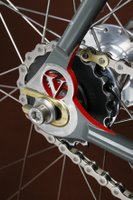 For anyone with bicycle priorities, the Vanilla badge has at the very least crossed your radar. Most people in
my
sphere of influence experience physiological reactions when presented with images of
Vanilla bicycles
which include, but are not limited to: drooling, kneeling, hand wringing, and emitting low volume loose-lipped fox whistles. And in the fringe case that someone with bicycle priorities hasn't seen a Vanilla, I suggest you look into the label, and the founder of Vanilla Bicycles, Sacha White.
I recently had the opportunity to catch up with Mr. White (via email, but who's keeping score?) and ask him some questions about his history, his company's history, what Vanilla is up to now, and in what directions he may steer his fledgling, umm, White-hot company.
On with the show:
In a past conversation we had, you mentioned something about futzing with Vespas when you were younger. How did that lead to an interest in bicycle frame design?

From age 13 to age 20ish I was heavily into restoring, customizing and riding classic Vespas and Lambrettas. This was my first taste of real metalwork and industrial design.
When I was 21, I moved from Colorado to Portland, and started working as a bike messenger. With that, my focus shifted from scooters to bikes. For a while I was just riding them, then I started tinkering, and then got into full rebuilds. After a little while, I realized that the types of modifications I was doing to my bikes would only be interesting for so long. At about that same time, the frame that I was messengering on had broken. I took that frame to a builder for a repair, and saw him working on a new frame. I think at that moment the passion that I had for scooter restoration and my new love (bicycles) came together and a light bulb went off. The rest is history.
What was the first bike you designed, built and sold? And how did the transaction come about?
The first two bikes that I built were for my wife (my girlfriend, at the time) and me.
I sold my third frame to a good friend and racing buddy for like 50 bucks over my cost. He wanted a cross frame and fork to race that season. His was actually the first of my bikes to be ridden.
That first cross race was super nerve racking, because my friend Jeff was racing #3 my friend Sam was racing #4 and I was racing #5. Each of those bikes had minimal test time before being raced, and for all I knew they would all just fall apart that first day. It's funny to think about how nervous I was then, because not only did those bikes make it through their first race, but all of those bikes are still being raced at an elite level today.
Did you realize at that point you might be onto something?
I really took frame building day by day back then. I didn't have big ideas about building a business or being successful. I was just enjoying myself, and learning a lot.
Has the company head count grown yet, or are you still doing everything yourself?
I am happy to say that I have two employees, but I have been able to structure things so that I can focus on designing and building the frames myself. My employees handle all of the extra tasks that come with running a business ie; parts ordering, bike assembly, custom wheel builds packing and shipping etc.
Will there ever be Vanilla production frames?
I don't know. When I think about doing the same thing over and over again, it makes me kind of sleepy. One great thing about doing all custom is that there is always something exciting and challenging waiting in the wings.

There seems to be the beginning of a shift happening in the cycling world - away from high tech materials, and toward comfortable all-day rideable bicycles, many of which are made of steel. Why do you think that is?
Cyclists are more sophisticated now. It has gone way beyond recreational and people are really integrating bikes into their everyday lives. City bikes with full fenders, lighting systems, unique handlebar setups etc. are becoming accepted, and in this neck of the woods they're the norm.
There are currently a few companies out there making exquisitely crafted steel bicycles. Which ones are the most beautiful and useful in the eyes of Sacha White? Why?

Mike Flanigan / ANT
is building some very beautifully utilitarian stuff. He is a perfect example of the useful citybikes that we were talking about above.
Peter Weigle is a one man shop. He has been building for over 30 years, but his designs and paint schemes are very current. He is also one heck of a nice guy.
Pedersen bikes
from Denmark have always been beautiful to me. I like that their frames are a total departure from the standard diamond frame. I would like to build a primer grey ss cross bike out of one.
These are just a few, but I respect and am inspired by a lot of independent builders out there.
Are there any big bike companies worthy of admiration?
I have some Specialized sunglasses that I like.
(Gino laughs out loud)
I like some of the frame shapes that bigger companies are doing with carbon. The cruiser-esque curved top tubes and seat stays. That kind of design flexibility would make working with a material like carbon attractive to me - but this does not mean I am going to start working with carbon.
How long does someone have to wait for a Vanilla bicycle as of August 2006?
The wait is about 22 months right now.
Are there any Vanilla bikes living overseas yet?
There are. A couple in Europe, a couple in Africa, a few on order from the Australia area.
Africa? Where in Africa? I didn't realize there is a cycling contingency in Africa.
I think there must be a cycling scene everywhere. It is an internationally loved sport, like soccer. Don't you think so?
A few years ago I was in a hilly road race as a cat 3. There was a man that none of us had seen before, who won that day. It turned out that he was the Kenyan national champion.
As for my sales in Africa, I have a repeat customer in Egypt (the Egyptian bank notes are beautiful works of art by the way) and there is a journalist that I built a travel road bike for, who is living in South Africa, but is covering stories all over the continent.


What's the most amazing thing someone is doing, or has done on a Vanilla to date?
I pulled two good friends from their wedding ceremony to the reception in a chariot that we hooked up to a Vanilla. There was a little bike parade, endless champagne, and tender Barry White jams.
Vanilla has been victorious at cyclocross nationals, and my bikes have been raced at cross, and 24hr MTB worlds. My friend Steve raced a bike that I built for him in the Iditasport race in Alaska (walkers, skiers and bikes racing against each other. No roads), and also in a self supported race along the continental divide from the border of Canada to the border of Mexico. I get letters from customers who are in the middle of epic tours.
Earlier this year, your daughter ditched her training wheels. Does she now ride a Vanilla?
No but the two of us are going to build a bike for her soon.

If you could have any - but only one - bike to ride for the rest of your life, which would it be?
A single speed cross bike, maybe with couplers.

It is the year 2099, a hundred years after the first Vanilla rolled out of your shop. How do you want the cycling history books to read about Sacha White and Vanilla Bicycles?
It's hard to look that far forward. Right now I build my bikes so that 40 years down the road when the paint is scratched up and only half of the vanilla name is legible the bike will still be riding like a dream. Also, the unique touches that are built into the frame will be as fine as the day they were created, because they are part of the structure, not superficial fanciness.